Greeting
WINDAS Co., Ltd the "Reliable Business Partner" ensure customer satisfaction with high quality products in the area of Aerospace testing Engineering, Automotive testing Engineering.
We are a company that provides the best service and the best products with the accumulated experience of the members for a long time. We are considering it to be the largest value that you understand what the customer wants it.
Our experience with certification and inspection offered on variety fields has maintained an ongoing relationship with many customers.
Continuous Improvement is the driving force and responsibility of WINDAS Co., Ltd. Always pursuit state of art knowledge and technology to find optimal solution for our products. Guarantee making every our effort to supply high quality products for customer.
PRESIDENT Kim, Si-Min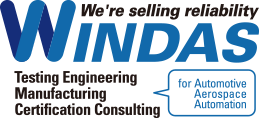 법인명 : 윈다스 ㈜
사업자등록번호 : 109-86-24680
설립일 : 2010년 8월 16일
사업장소재지 : 경기도 시흥시 시화벤처로 6-19 한국기계유통단지 1동 02호